1.6. Which tools do I need?
Without dismissing the huge technological complexity behind Internet surfing, the tools we need to perform a web search are not too demanding apparently: we need a device that is connected to the Internet (a personal computer, a laptop, a tablet, a cell phone, etc.). Processor speed and data transfer speed will be important elements to ensure an excellent navigation experience.
In the device mentioned above, we will need to install a programme called browser, which is a digital application that makes it possible to access websites hosted in servers from all over the world. The most popular browsers are Google Chrome, Mozilla Firefox, Microsoft Explorer, Microsoft Edge, Opera, Safari, UC Browser, Dolphin, etc. There is a fierce competition between browsers, and testing sites and comparative assessment are provided quite frequently to highlight the strengths of each competitor (speed, integration with the existing operating systems and platforms, simplicity of use, plug-ins, etc.) Probably, each user should find the browser that best suits his/her needs. It is also advisable not to limit oneself to a single browser, but keep two or three of them installed. Given that not all users surf the web the same way, choosing a browser or another depends on many factors. Nevertheless, the data provided by experts do not leave much room for doubt about the browser used by the largest amount of users:

Google's leadership position is mostly due to the high performance of Google's browser: highly user-friendly, fast searches, a large library of extensions, compatibility in all devices and operating systems, integration in the Google ecosystem (images, maps, YouTube, etc.), protection from malicious websites, private or hidden surfing, etc.
One of the differences between some browsers and others are extensions or plug-ins. These are small applications every user may install in the browser to meet some given needs and make surfing the Internet more satisfactory. The browsers with more extensions are Chrome and Firefox.
The procedure to install such plug-ins is easy, as may be seen in the example below.
The plug-in we want to install is called "Colorful tabs", and it gives a different colour to each of the tabs opened in the browser, which allegedly makes it easier for us to identify tabs. In order to install it, we write the name of the plug-in in the search box.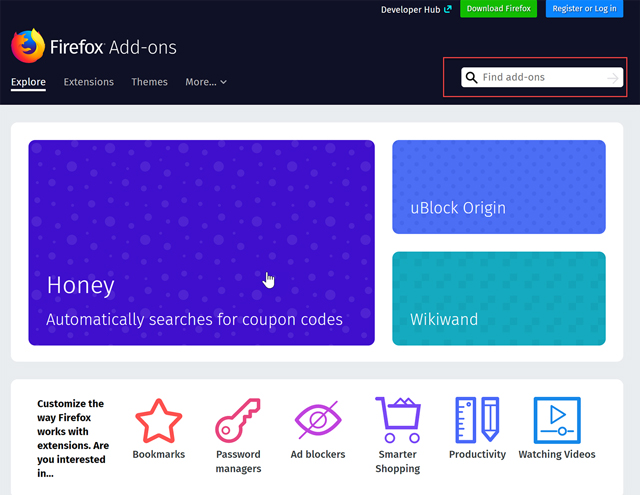 Afterwards, we will click on the corresponding button to say we want to add it.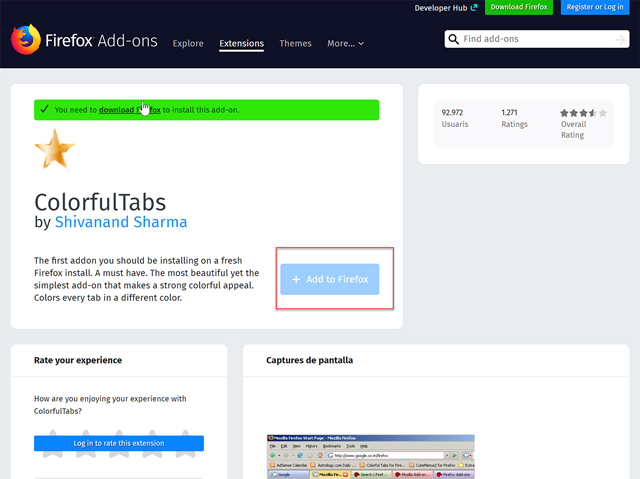 Next time we start Firefox and open a tab, colours will be available. If we are not satisfied with the new function, we may click on "Menu" > "Plug-ins" and disable "Colorful tabs". By doing so, we may explore the possibilities for visual and functional customization enabled by plug-ins, and tailor them to our needs so that they help us include services, remove advertisements, add functions, etc.
Finally, the last element we need is a search engine or search tool, which is a website that allows us to find other websites, as well as other information (images, videos etc.) hosted on the Internet. Some of the most popular search engines are Google Chrome, Bing or Yahoo!, but interesting alternatives are available, such as Qwant, DuckDuckGo or Startpage, which stand out for the fact that they do not trace user activities.
When choosing the best search engine, many technical tests are available (use of computer resources, start-up speed, search speed, graphic output, etc.), but other aspects may be key when having to make a choice. These could be privacy when surfing the web, objectivity when retrieving results, compliance with standards, a transversal approach between platforms and devices, its interface being user-friendly, etc.
Some browsers include a default search engine (for instance, Bing is the web searcher for Microsoft Explorer or Edge), and frequently the two concepts are difficult to distinguish from one another. Companies are willing to increase customer loyalty, but it is advisable to know about alternatives and do not limit oneself to a single web searcher. From the browser configuration, we may choose what our default search engine will be.